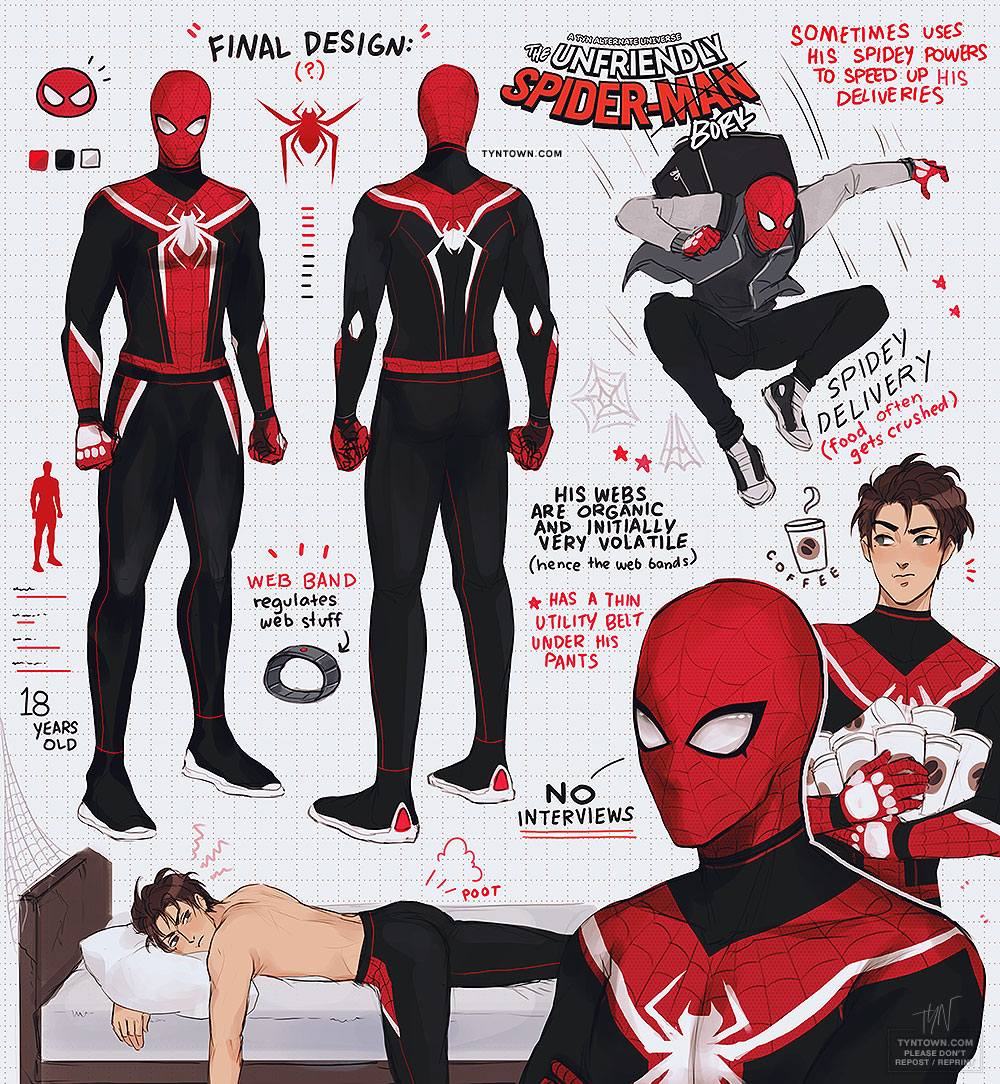 Meet Spidey-Bork
A handy little note guide on getting to know your unfriendly neighborhood Spider-Bork!
Index
A handy little note guide on getting to know your unfriendly neighborhood Spider-Bork!
Meet Spidey-Bork
in:
Sketchbook
| posted:
Aug 12 2020
Here it is… your little intro to the Unfriendly Spider-Man! These are doodle pages I've uploaded on my Instagram — please note that some points/designs made in these images may change in the actual AU comic – so please keep that in mind!
Spider-bork has gone through so many tiny re-designs throughout the last few months. Finally, I was able to settle on his red suit look! See below for the concept sketch: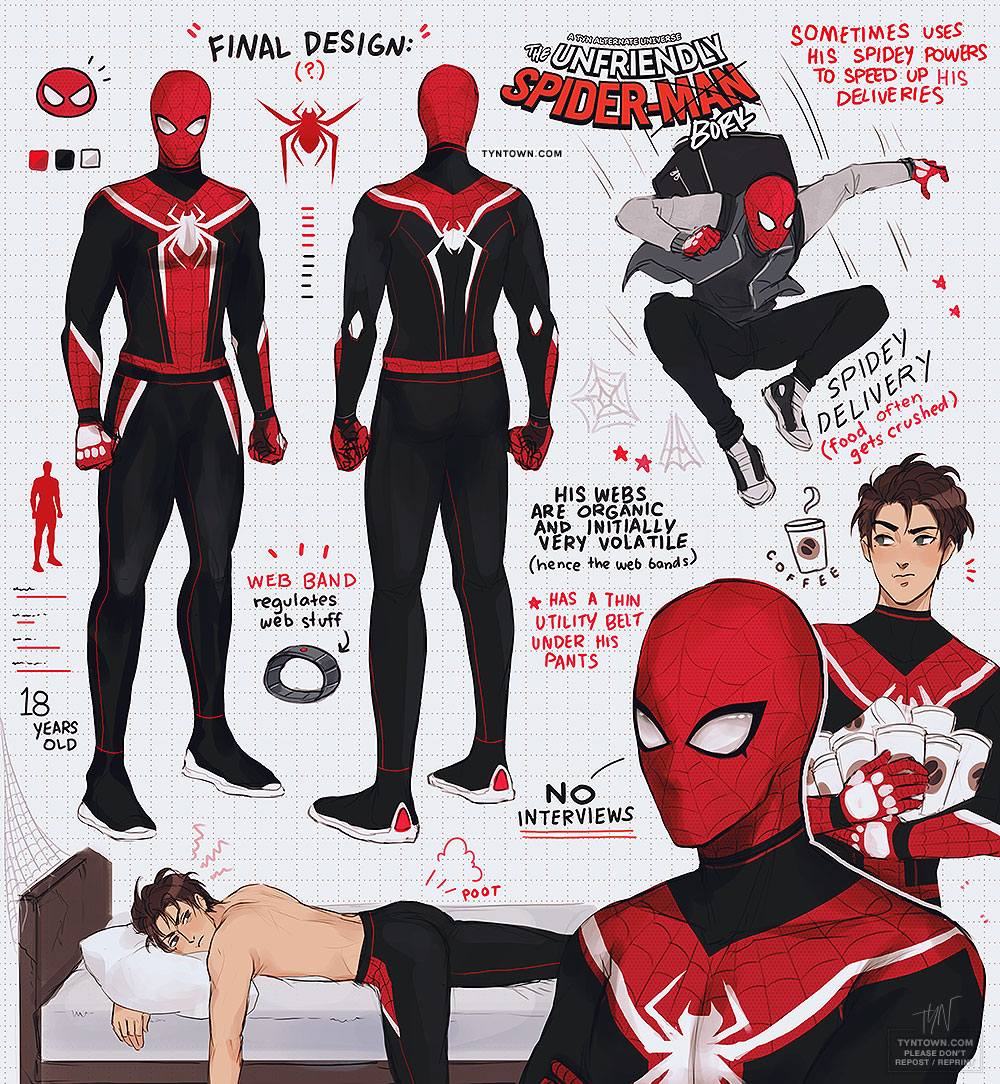 Behind the mask is your (below) average college student, Taemin Yeun. When classes are out, he spends his time working as a delivery boy mainly for a catering service in midtown Manhattan, or for the Snack Tap app when he's off from his main job. Spider-Bork: delivering justice… and brunch! Despite his low ratings, you can rest easy knowing your food will arrive all in one piece! Or 250.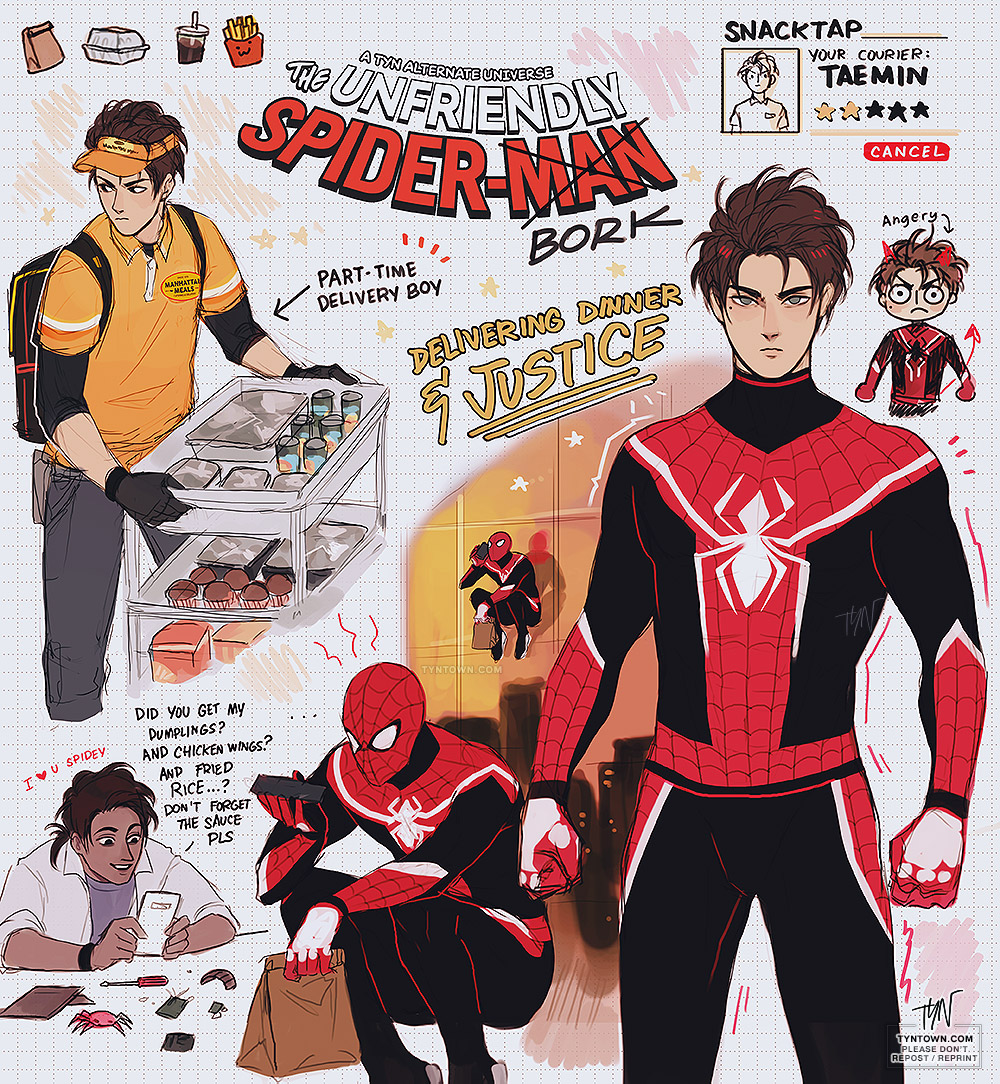 Apparently, delivery work runs 24/7, as Taemin isn't safe from doing snack runs even while on Spidey duty. The man-in-the-chair, gummy-bear-loving Vintz loves takeout food but is too lazy to go out and get it himself. He is also responsible for most of Spider-Man's tech and patrol data, so the least Taemin could do is swing by some shops and bring something home for his tech buddy.
Despite being generally 'unfriendly', Taemin almost always finds himself in the company of an overly-enthusiastic fan, who also happens to live next door. Jino Tomkins loves everything about Spider-Man and hit the jackpot when he accidentally found out his hero's secret identity. Taemin had been babysitting him since then.
Of course, Jino wouldn't be the #1 Spidey fan if he didn't have hundreds of wacky questions to ask Taemin at any chance he gets. How much has been answered? Probably zero.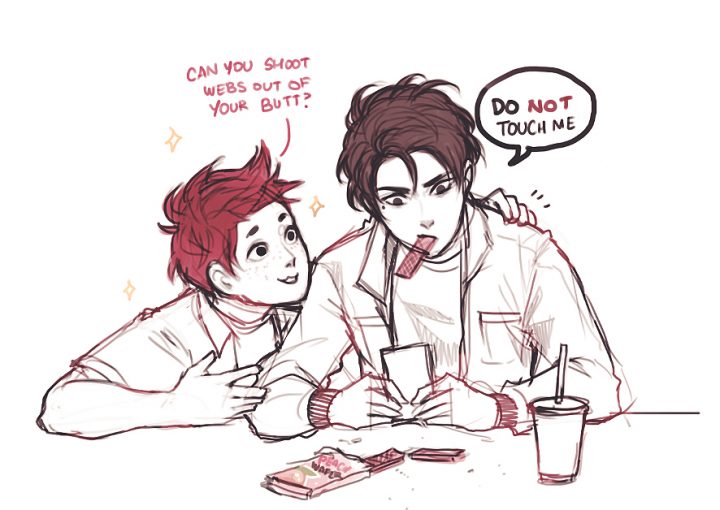 Taemin doesn't act any different from his original self in this AU. He's still the same bork man with all the whining, except with awesome spider powers.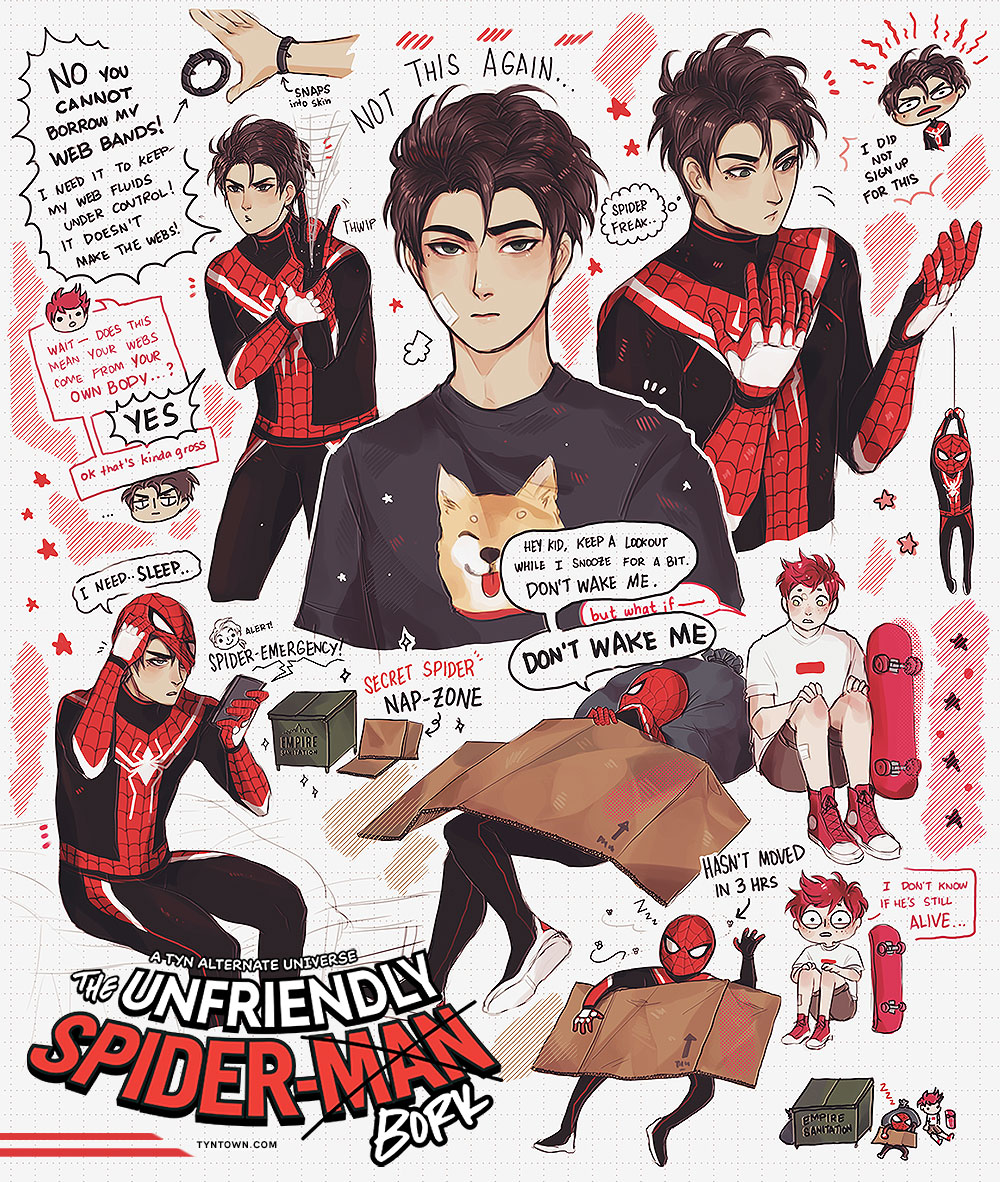 There are also a few other characters who have yet to make an appearance (anywhere) – the following three are students who go to the same college as Taemin. And yes, one of them is out to expose the "Spider-Menace" for what he truly is…
Going back to Taemin's day job– he regularly delivers to a local jewelry start-up. One of their interns is a pretty peculiar girl, who holds big heists adventures of her own behind the scenes. Hailey is a huge puzzle to Taemin, but to her, he's an open book.
Like a cat playing with its prey, Hailey enjoys teasing Spider-Man whenever she can. It's just so damn easy to get him all riled up. Mischief aside, she does help him out a lot when he needs it. But that doesn't come without a price…
Even with his sour nature, he does find himself surrounded by people who are willing to stand by him. Maybe it will make the struggle of college and hero life a little bit more bearable.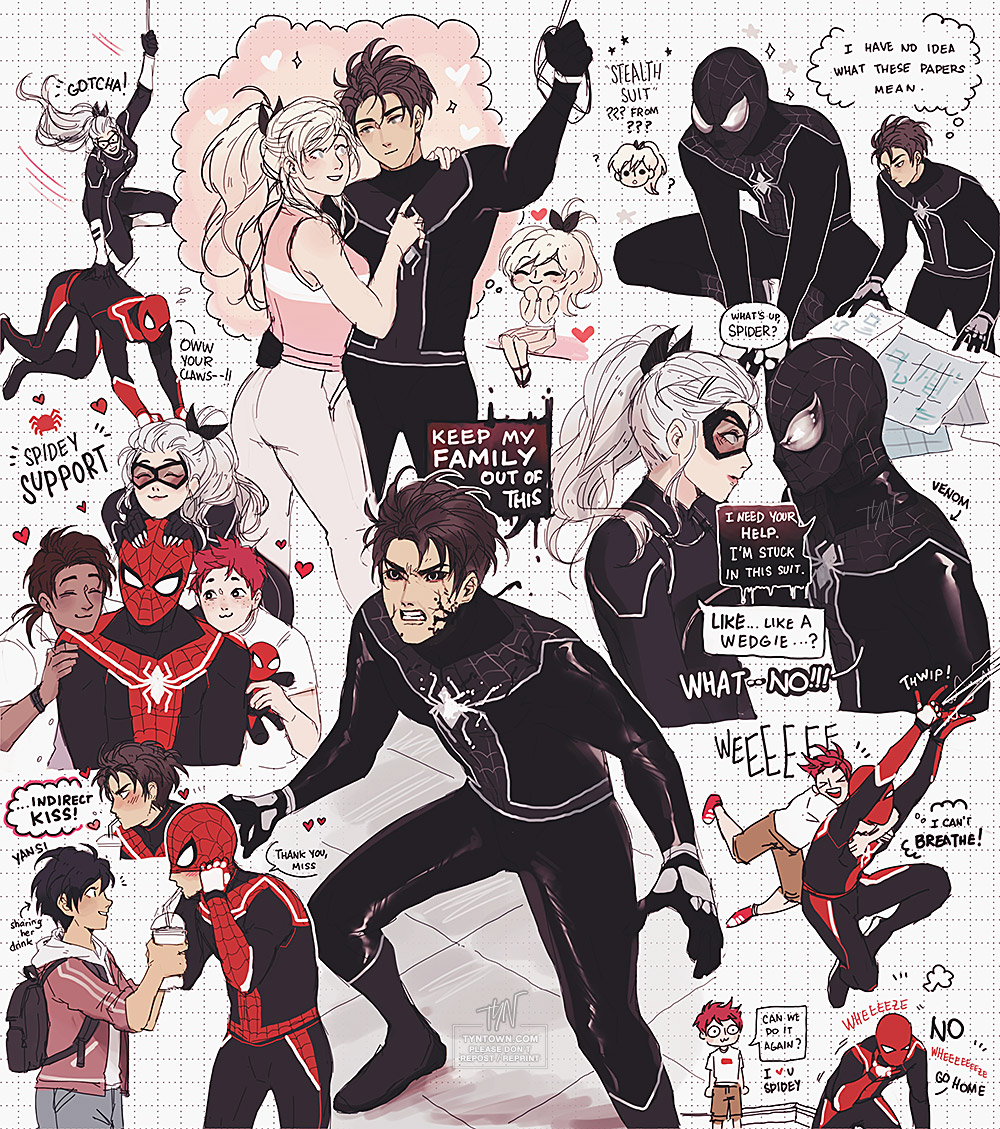 That's all the notes I have so far! I purposely left out some even though I posted them on my IG, because I think these are the more important ones! Thank you for reading up to this point and I hope you will stay tuned for the AU's first issue!
Meet Spidey-Bork
Wed, August 12 2020 / 08:20 PM
AU Series:

Category:

Cast:
Mari
I make TYN stuff
Heyoo! I'm Mari - I love to draw, and I also do photography and web coding, but mostly I just make [failed] homemade ice cream.